Norman Wells excited about Health Happy Selections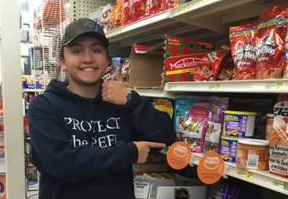 (pictured: Norman Wells Northern employee Jed Mcdonald)
Living a healthy lifestyle is easier when there are more options accessible to do so.
Thanks to the Health Happy program, a number of healthy alternatives for all sorts of food items can be found on the shelves of Northern and Northmart stores across the country.
"Customers and staff alike are excited to see our Health Happy selections," said Norman Wells Northern employee Jed Mcdonald.
Norman Wells' Northern store has received a very positive reaction to the Health Happy program. The store is seeing its customers vote with their dollars by more often than not, choosing the lower sugar, fat and salt option.
"It is important that we are responsible corporate citizens and offer our customers the options they need to live a healthier lifestyle," said store manager Dee Opperman.