North West Gives Back
(Photo: Employees of The North West Company volunteer at Siloam Mission as part of The North West Gives Back event)
It feels so good to give back.
More than 30 North West Company staff in Winnipeg lent a helping hand at Siloam Mission as part of The North West Company's ongoing community engagement initiative. North West dedicated a day in August to "Give Back" to the community, with staff helping Siloam Mission run their meal drop-in programs and assisted with donation sorting for Winnipeg's less fortunate and homeless community.
As a special treat, North West invited renowned Canadian singer and songwriter Tom Jackson to join the volunteer group and perform for the patrons.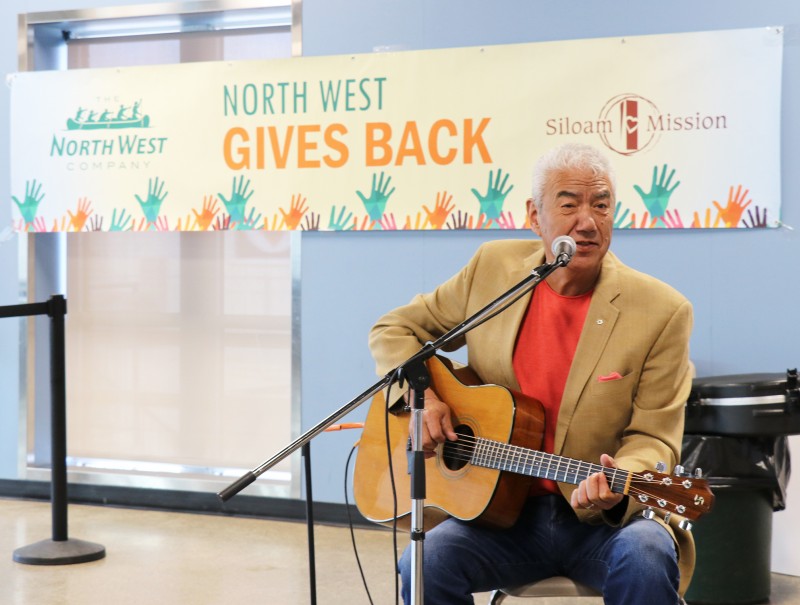 (Photo: Tom Jackson performs for Siloam Mission patrons at The North West Gives Back event)
"It is wonderful to see North West employees giving back to the community and to this great cause," stated Jackson. "I am thrilled to be a part of this wonderful event."
"This day is part of a larger community engagement initiative at North West," stated Gary Merasty, Executive Vice President & Chief Development Officer, The North West Company. "Through the past year our employees have supported many charitable causes. One of the fundamental principles of The North West Company is our commitment to local organizations and programs."